'La tua serie preferita? KIREIA' won the 1st Prize of the 18th Press Award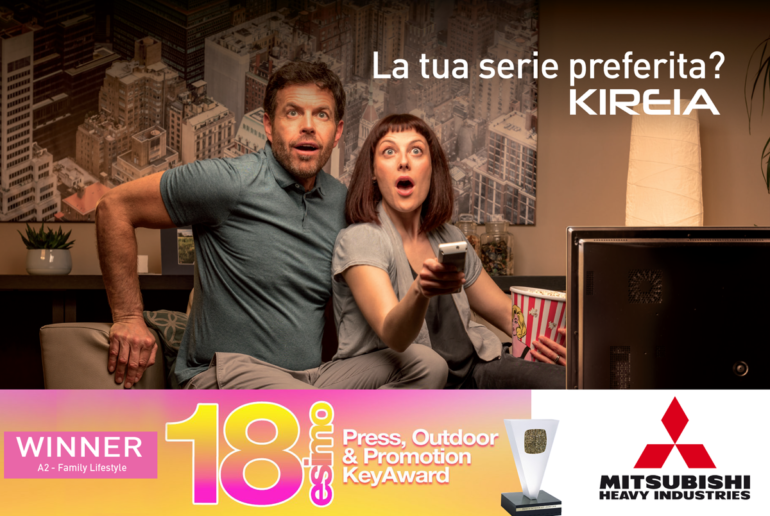 Press campaign 'La tua serie preferita? KIREIA' won the 1st PRIZE IN THE A2 CATEGORY – Family Lifestyle
The recognition is the 18th Press, Outdoor & Promotion Key Award
Press release – On Tuesday 13, July 2021, at 6.00 pm on Mediakey.tv, took place the official ceremony in which Mitsubishi Heavy Industries was awarded for the Press Campaign 'La tua serie preferita? KIREIA', winner of the 1st PRIZE at the 18th Press, Outdoor & Promotion Key Award, in the A2 – Family Lifestyle category.
The event was broadcast by the Leonardo da Vinci National Museum of Science and Technology of Milan, Via San Vittore 21.
Giorgia Surina, actress and radio speaker, host the 2021 edition.
PRESS CAMPAIGN 'La tua serie preferita? KIREIA'
The communication agency MEDIAMORPHOSIS created the winning concept #LaTuaSeriePreferita for Termal Group, developing it within a cross-media campaign declined on press and TV, and further promoted by the Group's communication department, through an effective sharing on web and social media pages like mitsubishi-termal.it, industry web portals and the publication of a digital brochure.
The goal of the campaign, achieved by the project, was to consolidate the knowledge of the Mitsubishi Heavy Industries brand and its products, portraying families in their homes, visually and emotionally, and their daily habits in a historical moment, such as the one we live in, in which the simplest things acquire value.

THE PRIZE
The Press outdoor & Promotion Key Award is the recognition, promoted by Media Key Events, dedicated to press communication, out of home, promotional communication and packaging projects.
The campaigns were carried out from January 2020 to June 2021, by advertising agencies, clients, media agencies and advertising concessionaires, each category received an award. 150 pieces of work were selected and analysed by a jury composed of 35 industry experts, creative directors, academics and company marketing managers.